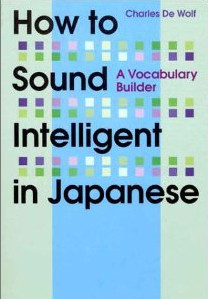 How to Sound Intelligent in Japanese
is a vocabulary textbook aimed at intermediate students who are tired of talking about shopping, hobbies and food.
The book is divided into seven topic areas:
Ideas and Theories.
Philosophy and Religion
Politics and government.
The fine arts, Humanities, and Social Sciences.
Science and Technology.
Law and Justice.
Business and Economics.
Each topic starts with a short introduction and contains vocabulary lists written in kanji, romanji and English. Many examples are given but there are no exercises. There is a single index which lists vocabulary in English and romanji. The price is $16 but you can save 35%($5.60) with Amazon