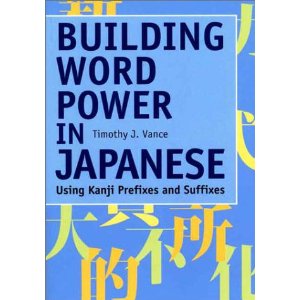 Building Word Power In Japanese by Timothy Vance
is a guide to using kanji prefixes and kanji suffixes. It was originally part of Kodansha International's "Power Japanese" series.
The key concept of Building Word Power In Japanese
is that you can add a kanji prefix or a kanji suffix to a Japanese word that you already know in order to create a new word. By memorizing a handful of prefixes and suffixes you can quickly build a massive vocabulary.
Here's a simple example from the back cover: by learning the prefix "cho-", meaning super, you can immediately use "cho-omoshiroi"(super interesting), "cho-kantan"(super easy) and "cho-baka"(super stupid).
The book usually costs $15.00 which is great value. With Amazon you save 32% and get it for just $10.20!